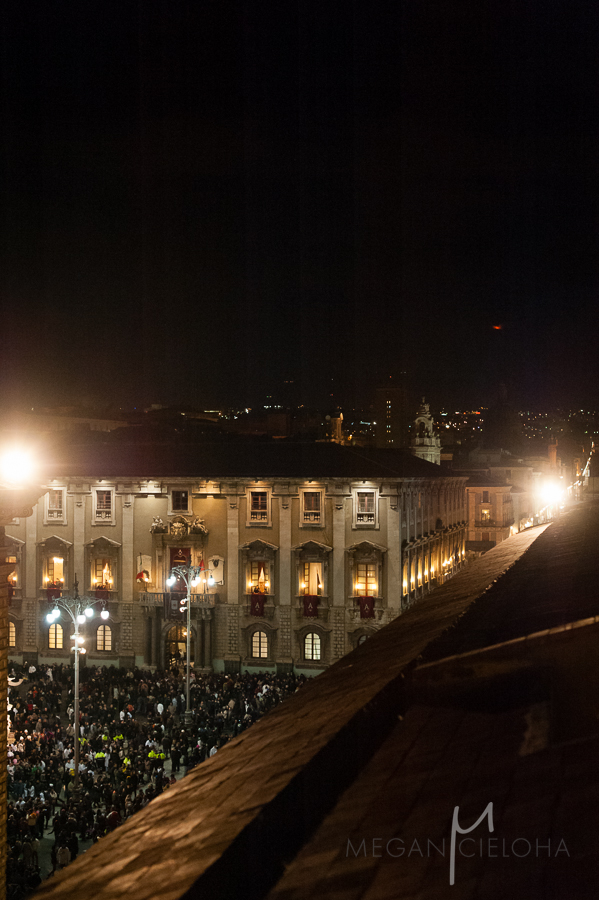 Yesterday we had the absolute pleasure of attending the St. Agata festival in downtown Catania. Our gracious hosts brought us with them to a lecture on the jewels donated/dedicated to St. Agata given at the museum of the Diocese of Catania. Walking through the streets of downtown you could feel the surge of energy emanating from the crowd. Although it was exciting to be down at ground level, we were treated to an even better view after the lecture; the rooftop terrace of the museum was made available for us to watch the procession and the subsequent fireworks. Mt. Etna seemed to be competing for attention as she put on a fiery show all evening long.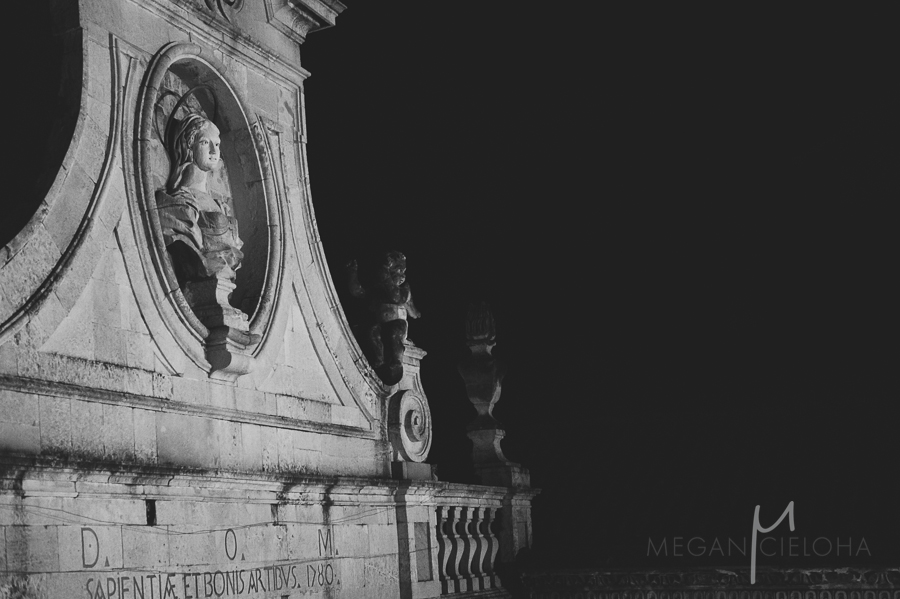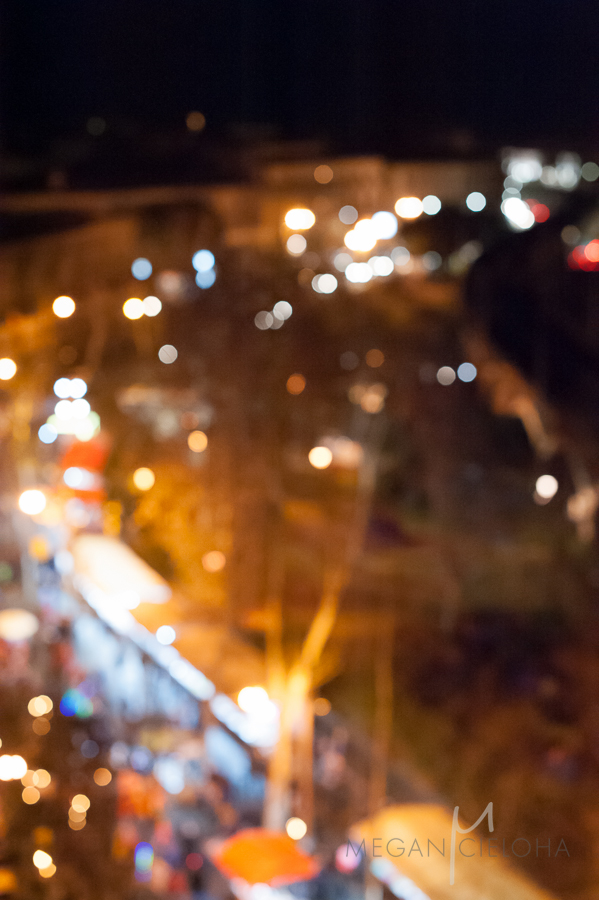 The streets outside of Elephant Square (Piazza del Duomo) were lined with vendors selling balloons, candles of various sizes (some as tall as 4 to 5 feet!) and candy. The smell of roasting nuts was intoxicating.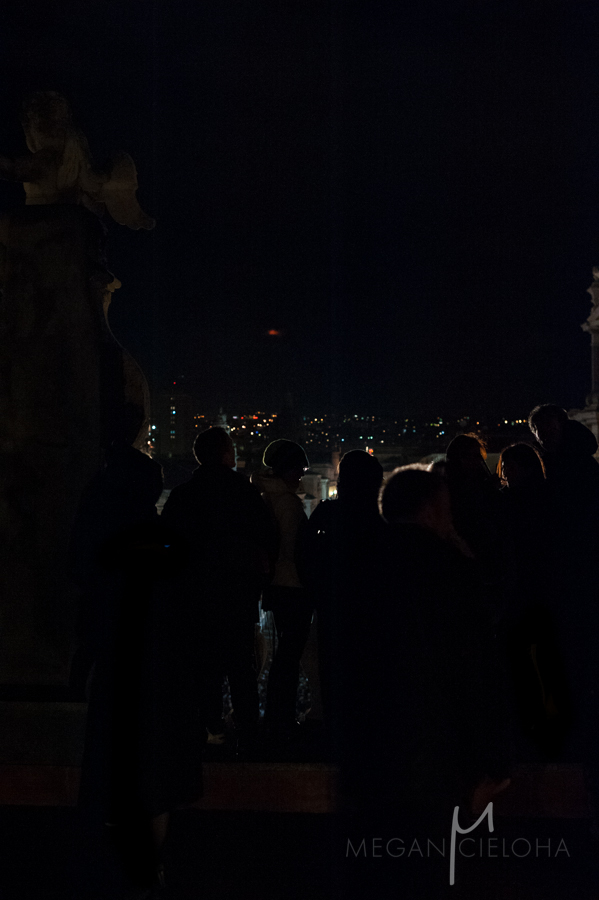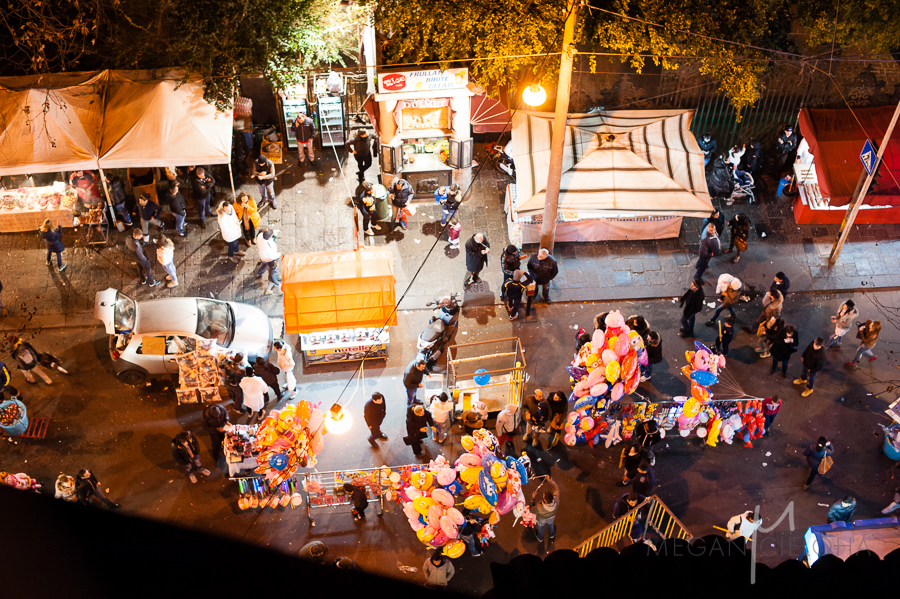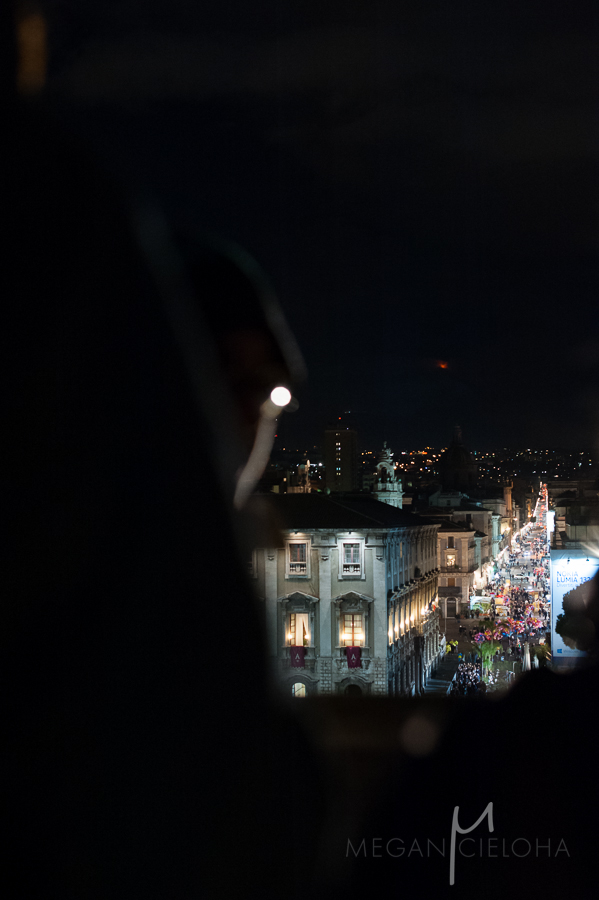 I wasn't on the rooftop for the fireworks (our littlest guy came along for the evening and was beginning to get tired and chilled) but from what I was told it was a once in a lifetime experience. The fireworks were set off in a park one block over and exploded approximately 100 feet over the heads of the people standing on the terrace. One chunk of burning firework actually collided with the wall directly beside our group. Although I wasn't able to see the fireworks, I still experienced their colors and vibrations inside the museum. We were sitting in an open room with a wall of opaque windows and the entire room lit up as each firework exploded. I sat in silence, with a huge smile on my face. We are living in Sicily. Wow.
I was told that "next year" it will be my turn to watch the fireworks ;)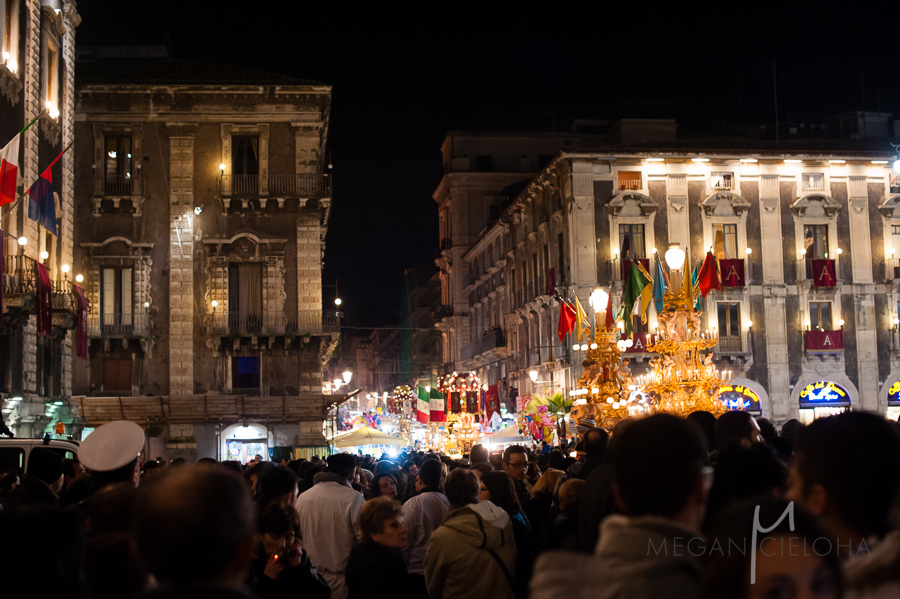 After the fireworks our hostess took us back down to the piazza to see the large 'candles' dedicated to St. Agata. Each can weigh upwards of 1800 lbs and is carried on the shoulders of a team of men.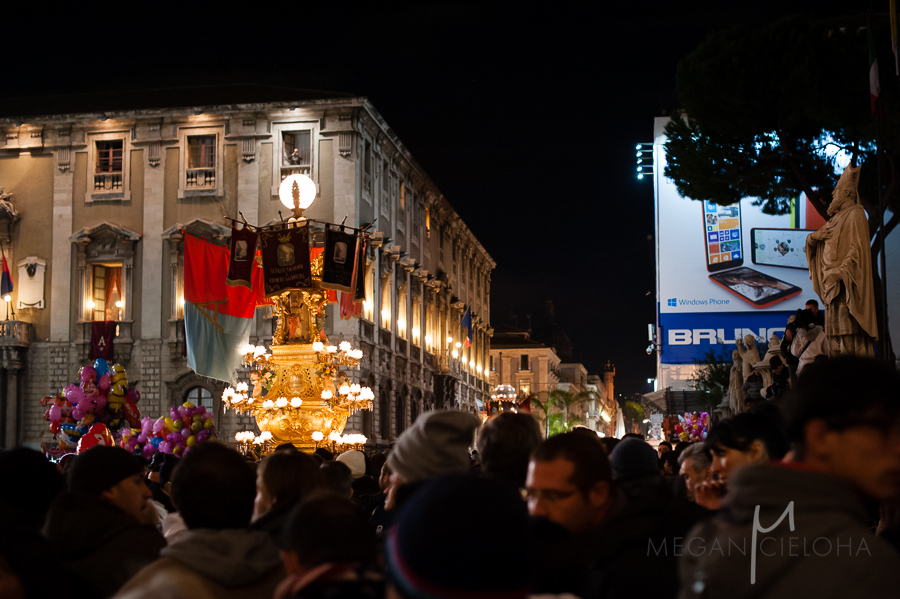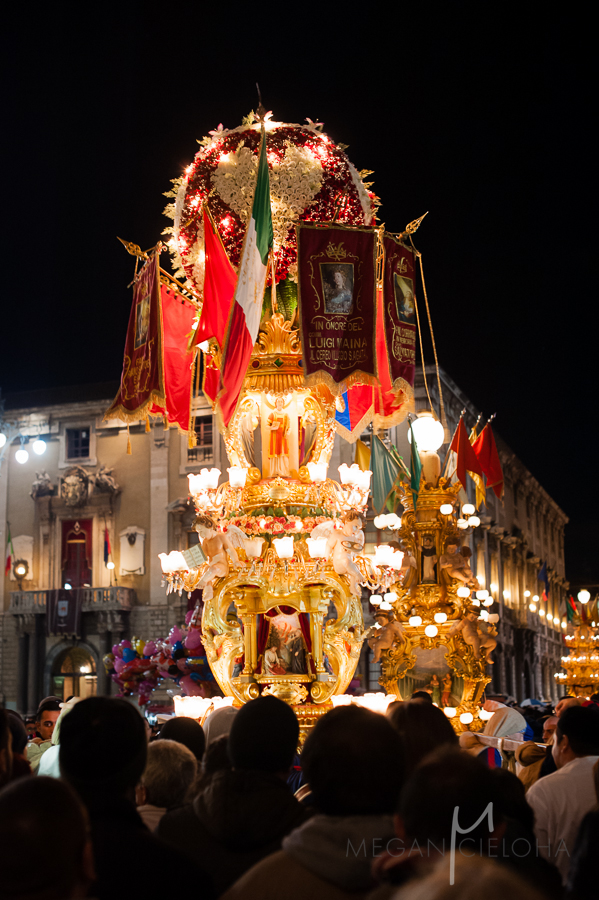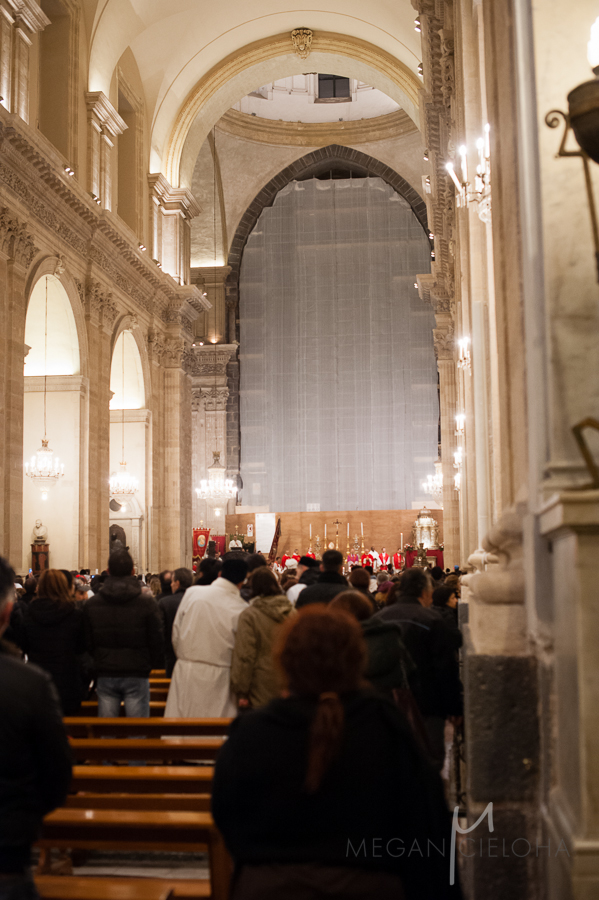 We went into the cathedral for the final moments of the service. The statue of St. Agata is only taken out in public two times per year; once during the festival in February and once in August so that Sicilians who no longer reside on the island can see it during the Italian holiday (vacation) month.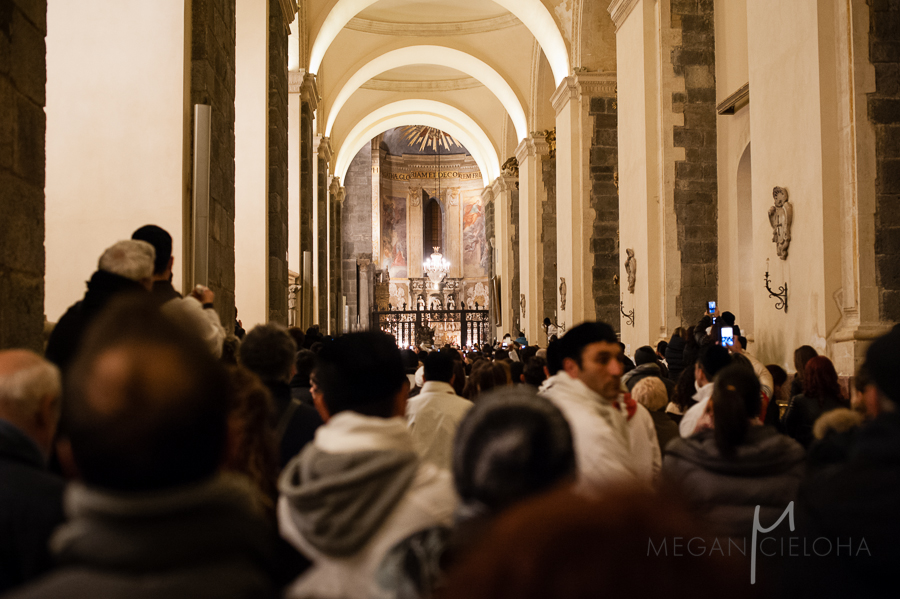 If you look closely you can see the statue about to be returned to it's normal place within the cathedral. It was a beautiful moment.
The evening was concluded with a buffet dinner (at about 9pm… Italian style!) back at the museum. Sicilians know how to celebrate.
---