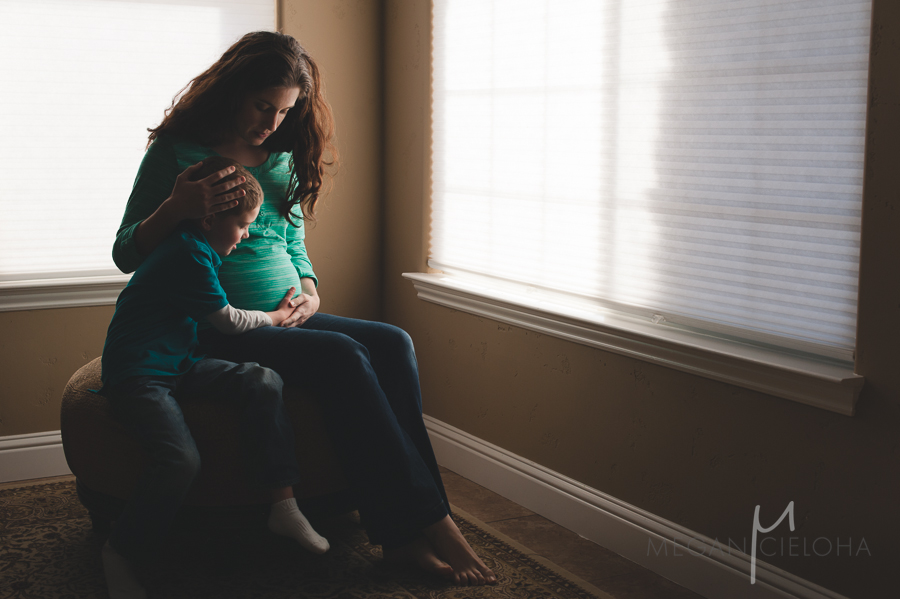 He calls you Chip-hug. Before we found out you were a boy, he wanted to name you Molly, but the evening after that ultrasound (which we all went to… the boys both loved watching you wiggle around) he wanted to name you more appropriately. We went through a list of possible names. Each was vetoed for various reasons, the most common of which was "No, that's my friend at school" and then all of the sudden- an epiphany! Chip-hug!! Perfect.
Several times per day Isaac comes over and pats my belly or gives it a kiss. Often whispering "I love you Chip-hug!" You've had several massages already (kind of slightly pinching my belly) and Isaac has vowed to be very gentle and trade you baby toys if you try to take off with one of his big guy toys. The growing obviousness of your presence in our family has prompted many questions: "what does he eat?", "he swallows his own pee? That's silly!", "when is Chip-hug coming out of there?", "(on the morning of an OB appointment) are you going to take Chip-hug out today?", "how DOES Chip-hug get out?"
I can't wait to see how your relationship develops once Isaac is able to kiss your sweet head and stroke your baby soft skin. I imagine he's going to fall fast in love, just as the rest of us will.
And I promise…. we'll have an alternate name prepared, too.
Please continue on around this heart-warming blog circle by clicking here to visit my sweet friend Amy Lucy's blog.
---